ДИДЖИТАЛІЗАЦІЯ ШКІЛЬНОГО КУРСУ БІОЛОГІЇ В УМОВАХ ВПРОВАДЖЕННЯ STEM-ОСВІТИ
Ключові слова:
диджіталізація, освітній процес з біології, STEM-освіта, технічні засоби навчання, шкільний курс біології.
Анотація
У статті йдеться про перші результати диджиталізації шкільного курсу біології в умовах впровадження STEM-освіти.  Розглянуто питання  диджіталізації курсу біології, яка є складовою STEM-освіти, яка передбачає використання в освітньому процесі цифрового обладнання та програмного забезпечення, що сприяє підвищенню конкурентної здатності та розвитку творчого потенціалу здобувачів освіти. З'ясовано оптимальні умови для створення сучасного освітнього простору та надані рекомендації щодо використання сучасних цифрових застосунків в освітньому процесі з біології.  Акцентовано увагу на можливостях диджиталізації шкільного курсу біології в умовах впровадження STEM-освіти. Запропоновано ефективні застосунки навчання біології в умовах впровадження STEM-освіти. Уперше розроблено рекомендації щодо перспектив впровадження результатів диджиталізації шкільного курсу біології в умовах впровадження STEM-освіти.
Посилання
Andriievska, V. M. & Bilousova, N. I. (2017). Kontseptsiia BYOD yak instrument realizatsii STEM-osvity [The concept of BYOD as a tool for implementing STEM education]. Fizyko-matematychna osvita, 4 (14), 13–17 (ukr).
Busel, V. T. (Ed.). (2005). Velykyi tlumachnyi slovnyk suchasnoi ukrainskoi movy: 250000 [A large explanatory dictionary of the modern Ukrainian language: 250000]. Kyiv; Irpin: Perun (ukr).
Drobin, A. A. (Ed.) (2017). Suchasnyi urok pryrodnycho-matematychnykh dystsyplin [Modern lesson of natural and mathematical disciplines]. Kropyvnytskyi: KZ. «KOIPPO imeni Vasylia Sukhomlynskoho» (ukr).
Drobin, A. A. (2021). Tsyfrova transformatsiia osvity yak obiektyvnyi faktor realizatsii naukovo-tekhnichnoi revoliutsii «Industriia 4.0») [Digital transformation of education as an objective factor in the implementation of the scientific and technological revolution «Industry 4.0»)]. Problemy ta innovatsii v pryrodnycho-matematychnii, tekhnolohichnii i profesiinii osviti. Kropyvnytskyi: RVV TsDPU im. V. Vynnychenka, 12–15. Retrieved from: https://dspace.udpu. edu.ua › bitstream (ukr).
Honcharova, N. O. (2019). Vizualizatsiia navchalnoi informatsii cherez vykorystannia tekhnolohii dopovnenoi realnosti [Visualization of educational information through the use of augmented reality technology]. Informatsiini tekhnolohii v kulturi, mystetstvi, osviti, nautsi, ekonomitsi ta biznesi, 37–38). Kyiv: Vydavnychyi tsentr KNUKiM (ukr).
Klymenko, L. O. (2022). Synerhiia mozhlyvostei STEM-osvity u pidvyshchenni fakhovoi kompetentnosti vchyteliv pryrodnycho-matematychnykh dystsyplin i tekhnolohii [Synergy of the possibilities of STEM education in increasing the professional competence of teachers of natural and mathematical disciplines and technologies]. Veresen, 3 (94), 29–37 DOI: https://doi.org/10.54662/veresen.3.2022.04 (ukr).
Liskovych, O. V. (2020). Oblasnyi forum yunykh shanuvalnykiv fizyky ta astronomii yak zasib formuvannia kompetentnostei uchniv u pryrodnychykh naukakh i tekhnolohiiakh [Regional forum of young fans of physics and astronomy as a means of forming students' competencies in natural sciences and technologies]. Veresen, 4, 2–3 (85–86), 22–35. DOI: https://doi.org/10.54662/veresen.3.2022.04 (ukr).
Mardarenko, O. V. (2013). Interaktyvni komunikatyvni tekhnolohii osvity: mobilne navchannia yak nova tekhnolohiia v pidvyshchenni movnoi kompetentsii studentiv nemovnykh VNZ [Interactive communication technologies of education : mobile learning as a new technology in improving the language competence of non-native university students]. Informatyka ta matematychni metody v Vykorystannia tekhnolohii BYOD u protsesi navchannia v osnovnii shkoli u modeliuvanni, t. 3, 3, 288–293. Retrieved from: http://nbuv.gov.ua/UJRN/ Itmm_2013_3_3_13 (ukr).
Order of the Ministry of Education, Culture, Sports, Science and Technology of April 29, 2020 No. 574 «On approval of a standard list of teaching aids and equipment for classrooms and STEM laboratories». Retrieved from: https://zakon.rada.gov.ua › (ukr).
Patrykeieva, O. O. (2015). Aktualnist zaprovadzhennia STEM-navchannia v Ukraini [The urgency of introducing STEM education in Ukraine]. Informatsiinyi zbirnyk dlia dyrektora shkoly ta zaviduiuchoho dytiachym sadochkom, 17–10 (41), 53–57. K.: Osvita Ukrainy (ukr).
Polishchuk, N. A. & Kaminska, V. V. (Eds.). (2021). STEM-osvita: naukovo-teoretychni aspekty, dosvid vprovadzhennia, perspektyvy rozvytku [STEM education : scientific and theoretical aspects, implementation experience, development prospects]. Lutsk: Volynskyi IPPO (ukr).
Romanyshyna, O. Ya. (Ed.). (2021). Suchasni tsyfrovi tekhnolohii ta innovatsiini metodyky navchannia: dosvid, tendentsii, perspektyvy [Modern digital technologies and innovative teaching methods: experience, trends, perspectives]. Ternopil: TNPU im. V. Hnatiuka (ukr).
Servisy dlia stvorennia interaktyvnykh viktoryn Kahoot! [Services for creating interactive quizzes Kahoot!]. Retrieved from: https://kahoot.it (ukr).
Shkarlet, S. M. (Ed.). (2022). Osvita Ukrainy v umovakh voiennoho stanu. Innovatsiina ta proiektna diialnist [Education of Ukraine under martial law. Innovative and project activities]. Kyiv-Chernivtsi: Bukrek (ukr).
Sipii, V. V . (2017). Formuvannia politekhnichnykh umin v protsesi navchannia fizyky uchniv osnovnoi shkoly z vykorystanniam smartfoniv [The formation of polytechnic skills in the process of teaching physics to elementary school students using smartphones]. Naukovi zapysky, 12, seriia: Problemy metodyky fizyko-matematychnoi i tekhnolohichnoi osvity, I, 92– 96. Kropyvnytskyi: RVV TsDPU im. V. Vynnychenka (ukr).
Zolotarova, I. O. & Trush, A. M. (2015). Zastosuvannia mobilnoho navchannia v systemi osvity [Application of mobile learning in the education system]. Systemy obrobky informatsii, 4, 147–150. Retrieved from: http://nbuv.gov.ua/UJRN/soi_2015_4_32 (ukr).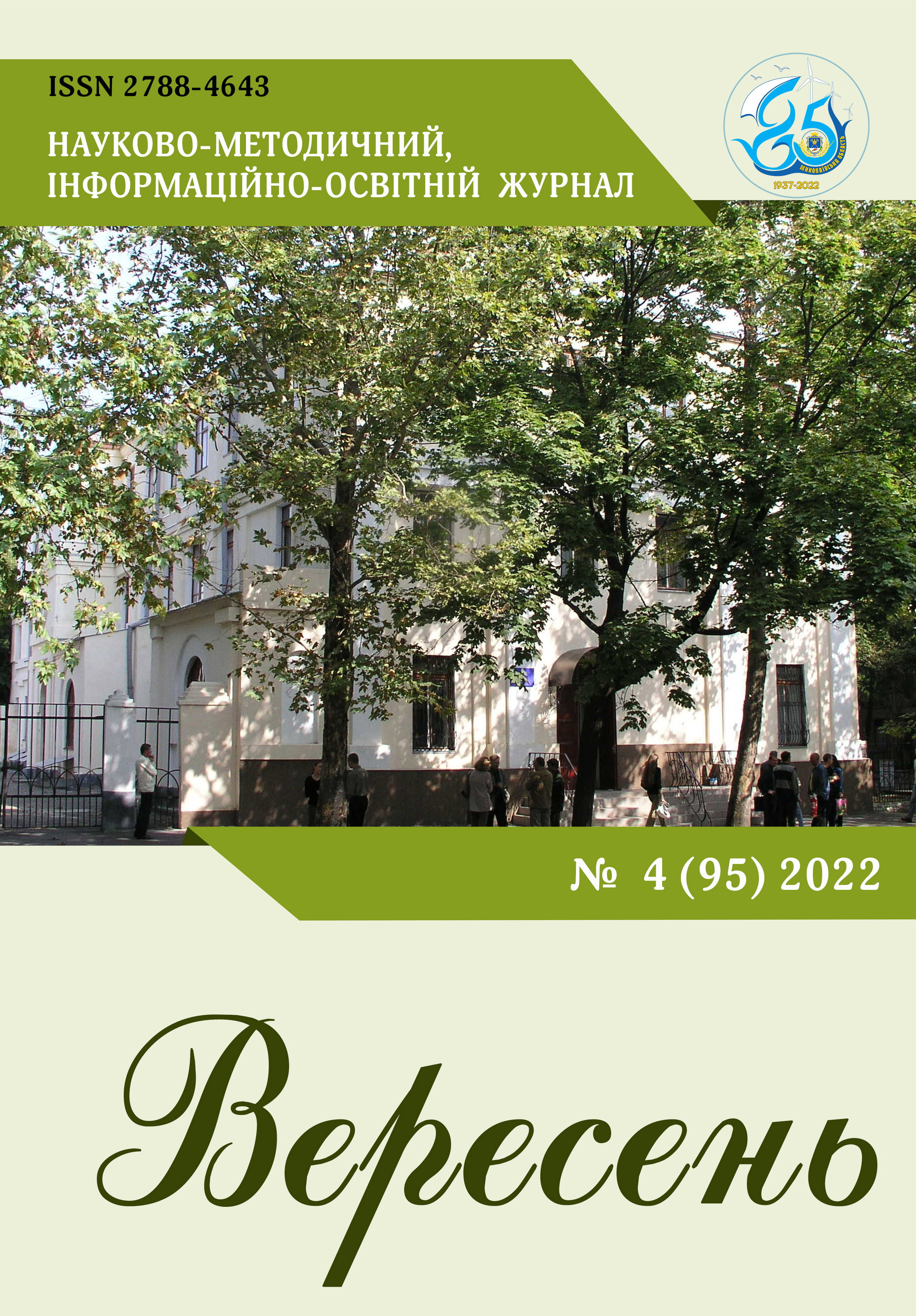 ##submission.downloads##